International Conference on Digital Discrimination and Social Networks Online
Recently, I had a chance to attend and participate at the ICUD International Conference: Digital Discrimination and Social Networks that took place takes on March 13 and 14, 2014 in Barcelona, Spain. The ICUD Project aims to Creatively Unveil hidden forms of Discrimination on the Internet, especially on social network sites such as Facebook, and provide practical tools to combat discrimination online. This project is lead by www.asceps.org, and is co-funded by the European Union's DG Justice: Fundamental Right and Citizenship programme.
It was a wonderful opportunity and space for interaction, discussion, learning and exchange of ideas and experiences: for social workers, academics, researchers, educators, Internet experts, NGOs, activists, young people and anyone interested in the issues surrounding discrimination on the Internet, especially in regards to social networking sites.
Complex topics like teen usage of Internet tools and social networks, racial discrimination, digital divides, network strategy against discrimination, hate speech, online gaming communities, LGBT issues, presence and representations of women online, youth and identity were discussed during the two-day conference.
Each session, talk, workshop and panel contributed to the ICUD conference and discussion, I'm selecting here few of them, for other details please see the references.
Game Over Hate: Building Better Online Gaming Communities
A project and an initiative Game Over Hate (Germany/Portugal) that was presented during the first day of the conference – had the goal to tackle hate in online gaming environments and to foster inclusive gaming communities.
Participants had a chance to discuss the most profitable branch of the entertainment industry (video games), the massive online communities that exist around it and how everything comes together in a world of hate speech, trolling and rape culture.
In this workshop there was a discussion about the role of the internet as both entertainment and as an alternative to offline socialisation by looking at the impact, size and scope of the new online gaming communities. Through interaction, some stereotypes about games were unmasked.  There was an interesting discussion on how players interact online, what types of games they play and what happens when so many people cooperate and compete online.
In an effort to understand this, workshop leaders look into cases from different communities, such as Anita Sarkeesian (FeministFrequency), Phil Fish (FEZ), Carolyn Petit (GameSpot), Zoe Quinn (Depression Quest), and "Fat, Ugly or Slutty". The examples showcase the toxicity of gaming communities, which can be extremely unwelcoming and aggressive particularly towards women, minority groups, new gamers and developers.
Some good practices from developers, journalists and players that shaped communities were presented, and left their mark on video game culture (Guild Wars 2, League of Legends, #onereasonwhy, Feedbackula).
Understanding and fighting discrimination for community development
The PACT Foundation, from Bucharest, Romania presented their work with young people from small towns and rural areas in Romania, where the topic of discrimination is considered to be of little importance, and the online activity of young people is reduced when compared to that of young people in large cities.
While Romania has currently a well-developed anti-discrimination legislation, it is a low priority topic on the public and political agenda, which leads to the paradox that discrimination is widely-spread among Romanians, especially against LGBT, Roma ethnics and HIV-positive persons.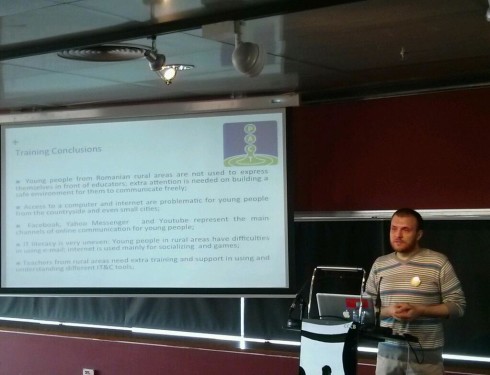 Presenters indicated that 'IT' literacy and lack of computers/net are one of the factors for hidden discrimination among young people.
Young people play a crucial role in combating discrimination in society as long as projects addressed at them go beyond the just politically-correct discourse and find new ways to involve them in the fight against discrimination.
Digital divide as a form of hidden discrimination
My talk addressed the issue of digital divide as a form of hidden discrimination that is omnipresent on the internet and an online public sphere, specifically about digital inequalities from socio-technological and educational perspectives.
Living in the margins without access to information technologies such as the internet, impacts an individual's engagement not only in political and social, but also educational life.
In the talk, some interesting data were presented as well as the indications that beside the unequal access to the internet and computers, there is a social divide in regards of internet use, the lack of 21st century literacies, the knowledge gap, and communication and collaboration issues between two status groups: youngsters (students) and educators (professors) in higher education environment in the Balkan region. The importance of collaborative and participatory possibilities for bridging the digital divide were discussed as they indicate a hidden form of discrimination.
The possibilities of internet usage and social media in the learning environment as a tool for collaboration and participation that encourages and fosters communication processes and decreases the widening gap were  discussed. There are communication and collaboration issues detected among professors and students.
Main findings has revealed the three main factors of the digital divide, and there will be offered the possible recommendations about solutions which might lesson these divides. You can find the presentation slides here.
Presence and representation of women in new media
I was thoroughly enjoying the discussion about women's presence online, by Rede de Jovens pela Igualdade (Portugal). It was an interesting presentation about the gender important issue: discrimination towards women (in public life, science, etc.) on social networks and on the internet, in general.
Recent data collected on social network users has shown that in many of these, women account for the majority.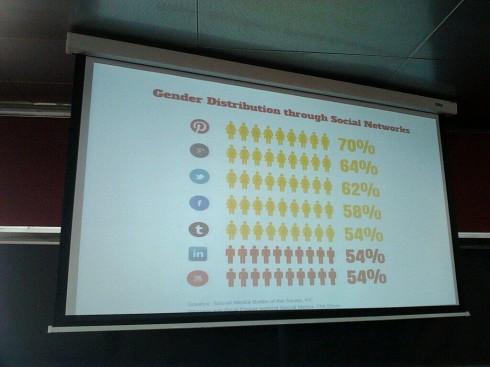 It was indicated that women also have been shown to be the ones generating more content, or at least communicating more (more posts, more comments). However, in spite of these numbers, many of these online spaces seem to, more often than not, show a somewhat hostile environment towards women. Presenters implied that this hostility frequently manifests itself through humour (for example, through rape jokes or the increasingly pervasive "go make me a sandwich" retort) or so­ called slut­shaming (the public slamming of girls and women perceived to behave as sluts).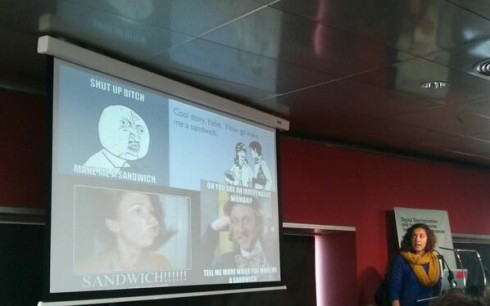 Women who are actively present online and women bloggers have on some occasions claimed to feel more violently criticised than their male counterparts. Presenters indicated that negative comments tend to rely on sexual aspects rather than mere criticism of the blogger's work (rape threats, for example, are reported to happen frequently). Female bloggers who have created a male alias in particular recount experiencing a more violent criticism when blogging under their feminine identity. This example of the bloggers seems to attest what some view as a chastization of women who come forward on public space, voicing their opinions and making their presence noticed.
On the other hand though, the internet and social networks in particularly has provided the perfect environment and tools for the development of a vibrant feminist activity. Online magazines, forums, groups, etc, multiply in an effort to both connect activists and reach the general public.
In conclusion, presenters said that in present times much is at stake in online spaces: the internet has created yet another sphere for the struggle against sexism and misogyny, bringing new struggles and new methods and tools for activist activity.
References:
Game over Hate: http://gameoverhate.org
Game over Hate Workshop material: https://docs.google.com/document/d/1i2UOiDNU6Xuv3st3tzHrfFW_9LHR0IgVtFiQzXBQB-8/mobilebasic?pli=1
Hate Prevention Initiative, Paris, France:  http://hateprevention.org/?lang=en
Pact foundation: http://digitaldiscrimination.eu/ro/bucharest/
Rede Portuguesa de Jovens para a Igualdade de Oportunidades entre Mulheres e Homens, Lisboa, Portugal: http://redejovensigualdade.org.pt
ICUD Conference program http://digitaldiscrimination.eu/conference/