Cassini in Motion: Spectacular In Saturn's Rings First Official Teaser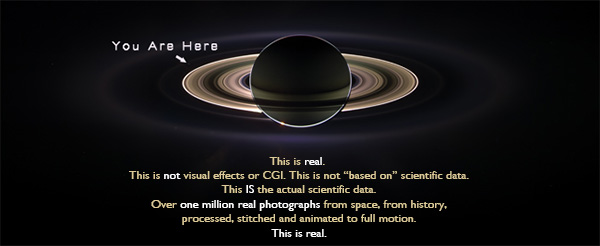 In Saturn's Rings is a non-profit giant-screen space art film that takes audiences on a journey of the mind, heart and spirit from the big bang to the near future via the Cassini-Huygens Mission at Saturn.
Composed entirely of still photographs using innovative visual techniques developed by the filmmaker, In Saturn's Rings stretches the boundaries of the motion picture form. The film will feature powerful music by Ferry Corsten, William Orbit, Samuel Barber and melds non-narrative visual poetry & science documentary into a rich experience for audiences.
In Saturn's Rings is a film that's both personal and universal, experimental and sincere, science and spirit , narrative and documentary. The goal is to use large screen imagery, synchronized to powerful but moving music, to create an experience for those who see it, hear it and feel it.
Using hundreds of thousands of still images manipulated to create full motion, using "2.75D" photographic fly-through technology. The film will be presented in beyond Hollywood quality 5.6K resolution on massive screens and concert-level surround systems to audiences in giant screen institutions, IMAX™ theaters, planetariums, museums and select 4k digital cinemas.
"'In Saturn's Rings' is a film that's both personal and universal, experimental and sincere, science and spirit , non-narrative and documentary. The goal is to use large screen imagery, synchronized to powerful but moving music, to create an experience for those who see it, hear it and feel it." – "In Saturn's Rings" official website
Official web site: http://www.insaturnsrings.com/