Peter Higgs awarded Nobel Prize in Physics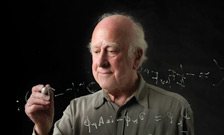 King's College London is celebrating the award of the 2013 Nobel Prize for Physics to its alumnus, Fellow and Honorary Doctor Professor Peter Ware Higgs CH CBE FRS FRSE FKC, jointly with François Englert.
The award is the 11th Nobel Prize awarded to a member of King's or its associated institutions, and it also highlights the remarkable tradition of discoveries in physics by members of the College, starting with James Clerk Maxwell in the 1860s.
Peter Higgs came to King's as an undergraduate in 1947 to read natural sciences in the field of physics. After graduating with a first-class BSc in 1950 he took an MSc in physics in 1952 and studied for his doctorate in molecular physics under the supervision of Charles Coulson and Christopher Longuet-Higgins. He was awarded his PhD in 1954 for a thesis entitled 'Some problems in the theory of molecular vibrations': a work that signalled the start of his life-long interest in the application of the ideas of symmetry to physical systems. He was a senior student at King's and had already published four scientific papers by the time he left the College in 1954 to take up a post at the University of Edinburgh.
Among the many honours and awards Professor Higgs has received are the Fellowship of King's in 1998 and the College's Honorary Doctorate of Science in 2009.
The College's tradition of world-changing discoveries in physics began in the19th century. In particular, the great 19th-century physicist James Clerk Maxwell was Professor of Natural Philosophy at King's from 1860 to 1865. During this time he demonstrated that magnetism, electricity and light were different manifestations of the same fundamental laws, taking a major step towards a theory unifying the forces of nature.
150 years later, the discovery in July 2012 by teams at CERN of a new particle consistent with the Higgs boson followed pioneering research on this particle by King's current James Clerk Maxwell Professor of Theoretical Physics, John Ellis CBE FRS. Professor Ellis is considered one of the UK's most influential and eminent particle physicists, and he has also made important contributions to astrophysics, cosmology and quantum gravity. He has been influential in setting CERN's strategic direction over recent decades.
In 2012 King's inaugurated an annual Higgs Lecture in the School of Natural & Mathematical Sciences, with Professor Higgs giving the inaugural Higgs lecture on the theme 'Putting Maxwell in his place' on 10 December 2012 at the Strand Campus to an audience of King's staff and students, science professionals and colleagues from other universities, and engaging in a lively question and answer session. A short video of the highlights and the full length video can beviewed online.
Professor Sir Richard Trainor, Principal of King's, said: 'This is wonderful news and we send our warmest congratulations to Professor Higgs. King's is extremely proud and honoured that our alumnus has been awarded the world's greatest scientific prize, and we look forward to being able to congratulate him in person in the near future.'
Professor John Ellis said: 'In 1964 Peter Higgs was among the theoretical physicists who discovered a way to give masses to elementary particles. This is now the basis for the Standard Model that describes immensely successfully all the visible matter in the Universe. Peter Higgs pointed out that this theory required the existence of a new kind of particle, commonly called the Higgs Boson, which was discovered by the ATLAS and CMS experiments at CERN in 2012, providing dramatic experimental confirmation of his theoretical ideas.
'We are proud that Peter Higgs was a student in the King's Physics Department, and that his links with King's continue. Research on the properties of the Higgs Boson and related aspects of particle physics is an active theme of research in the King's Physics Department.'