A flawless launch for the world's first commercial space mission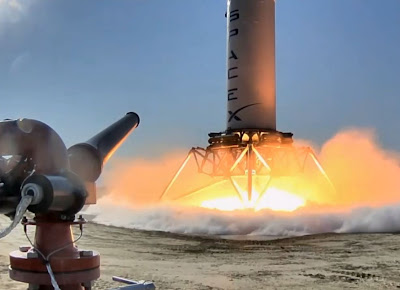 Elon Musk's commercial space travel venture SpaceX has ticked off another global first – the first commercial space flight. Watch a replay of the launch first stage:
The SpaceX Falcon 9 rocket roared off the launch pad at 11:35am Canberra time, boosting the robotic Dragon capsule into a three-day chase of the International Space Station, carrying a NASA-commissioned resupply cargo. The media kit includes the full cargo manifest – 905 kilograms each way.
What it doesn't mention is that the cargo includes a freezer with vanilla and chocolate ice cream for the crew! Special treat.
SpaceX are switched on with their broadcasts too – they had multiple onboard cameras giving some amazing perspectives, such as this one of the second stage rocket glowing white hot.
This one shows the solar array deployment – unfolding surprisingly quickly.
During the broadcast, SpaceX confirmed the stories behind the naming of their craft: the Falcon 9 is named after Han Solo's Millenium Falcon on Star Wars, and the 9 is for the nine Merlin rocket engines that power it. This screengrab shows the Falcon breaking the sound barrier.
The capsule itself is named Dragon, after the old show Puff the Magic Dragon, following criticism back in 2002 of SpaceX's goals. This screengrab shows Dragon docked to the ISS.
Recently, SpaceX also tested their "grasshopper" configuration – a set of legs on the base of the first stage. The goal here is to retain some fuel in the booster and return the whole thing back to a gentle landing for reuse.
This shows the shock absorbers on the grasshopper legs. It was only a short hop a few metres off the ground, but it's a start.
And what about this as a workplace?
Finally, here's the launch control room in SpaceX HQ. NASA it is not!
The Dragon capsule looks very cylindrical there – just a wide angle lens distortion.