Chemtrails – Conspiracy Theory?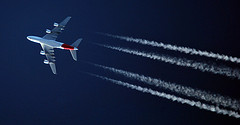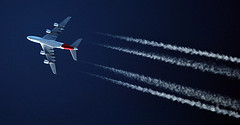 We all know what contrails are: those long thin artificial clouds that form behind aircraft, most often as a result of the water vapour in the exhaust of the aircraft's engines. But have you heard of chemtrails?
I first learned of chemtrails after our editor asked if I would be interested in writing a story on it. At the time, I thought it would be a simple story.
But it's been over a month since I watched the video, "What in the World are They Spraying? I didn't realize the amount of research or the length of the list of questions that would emerge. Here, I'll comment on the video (it's about 1 hour 35 minutes long), pose some of the questions I had, and offer some analysis.
Michael J. Murphy is a filmmaker and political activist who wrote, directed and produced the film. The concern seems to be compassionately targeted on public health. That scientists and geoengineers are trying to solve the global warming crisis by geoengineering appears to be unacceptable to Mr. Murphy and his collaborators. Geoengineering is the deliberate intention to moderate global warming by intervening with Earth's climate system. An example is cloud engineering. Cloud engineering research is underway at the University of Washington as a potential tool to ease climate change, but at this point is only at the initial stages.
The film tries to touch on some aspects of science and targets aluminium as the cause for an increased alkalinity of soil in California that is damaging plant life and threatens the water supply for hikers visiting Mt. Shasta. This aluminium that falls as pellets from the sky is also thought to be the cause for softening the bark of coconuts trees in Hawaii and why farmers there cannot grow their own taro and papaya. Farmers on the compound in the film claim they want GMO seeds so they can grow their own food naturally. Interesting turn of events and thought patterns, wouldn't you say?
I could go into more detail about the effects of aluminium, but I will refrain. If you are keen to learn more about the public health effects, click here.
The so-called climate engineers are painted as scientists who have crossed over to the dark side. They know the harm these chemicals can cause but must be willing to go ahead with these spraying flights, even if it means harming their own families. Or are they somehow excluded and protected from the aluminium that rains down with coats and hats that offer some sort of super power protection? It was mentioned in the film that they are forming sales, implementation and funding strategies. I'm still not sure who "they" are. They are mentioned over and over and over again as the culprits, the party responsible for poisoning the people and food on our planet. Follow the money, the filmmakers and those appearing in the movie say repeatedly. There is a whole evil empire, beginning to build, that will take over the world. And the evil empire evidently begins with Monsanto.
The multinational agricultural and biotech company Monsanto is mentioned as a curve ball to distract from the topic at hand and perhaps gain more followers. In the film, it is stated that an aluminium resistant gene had been developed at Cornell University and was patented in September 2009. A search of the United States Patent and Trademark Office website reveals no such patent matching #7582809.
The filmmakers bring in advocate and conspiracist G. Edward Griffin to join this chemtrail crusade. He talks about how chemtrails don't dissipate; that a permanent grid hangs over cities like Los Angeles. A bit more confirmation on this is needed for my liking – for instance a time-lapse camera set up throughout the daylight hours, for an entire 7-day period, to see exactly how many airplanes are passing through, creating these everlasting contrails containing chemicals that rain down on us. And the camera should be able to zoom in on the plane, or perhaps a set of binoculars could be used to see the N-Number on the aircraft. Flight plans have to be registered by pilots at airports, so surely with some investigation and tracking down records, we could find out whom these they people are and begin to interrogate them as to why poisoning the planet for profit or using this method to combat global climate change seems like a good idea.
The first International Chemtrail Symposium took place on May 29, 2010. When you plug this into Google, a myriad of conspiracy type results show up; one is listed under "Godlike Productions". In the film, we are given a glimpse of this symposium. The phrase, "What God had originally made" is used. Any time God vs. science rears its head in a conversation, it is no longer a logical debate; it is one rooted on emotion and one's philosophical beliefs.
Another anecdote that leans this chemtrail film toward the conspiracy theory side is when they invite activist Jeremy Rothe-Kuschel to go to Washington, D.C., to try to persuade elected officials in the U.S. House and Senate to investigate this fleece that has been cast over the American people. Representative after representative shut them down. Ambushing politicians with pamphlets and a video camera does not seem to be the best method for getting one's case heard. Senator Dianne Feinstein of California humours this crew a bit by taking their information. I've yet to see her office actually follow up on the issue of chemtrails by displaying information on their website, holding a public meeting, or introducing a bill for a hearing to the Committee on Science and Technology.
Over and over there are references that scream sensationalism tactics. Presenting one side of the story as this film does, makes it a bit difficult to really ascertain what the perceived harm is and if chemtrails are really a ploy by governments the globe over to decrease the human race. If it is true, than we should start tracking the whereabouts of aluminium and barium in relation to scheduled flight plans and requesting that our elected officials work with our national scientific organizations to find the answers, while looking for real solutions to climate change that works for the populations and the planet.
Cite this article:
Burnes K (2012-12-28 11:56:59). Chemtrails - Conspiracy Theory?. Australian Science. Retrieved: Mar 30, 2023, from http://ozscience.com/chemistry-2/chemtrails-conspiracy-theory/