SignMedia: online learning tool for deaf media professionals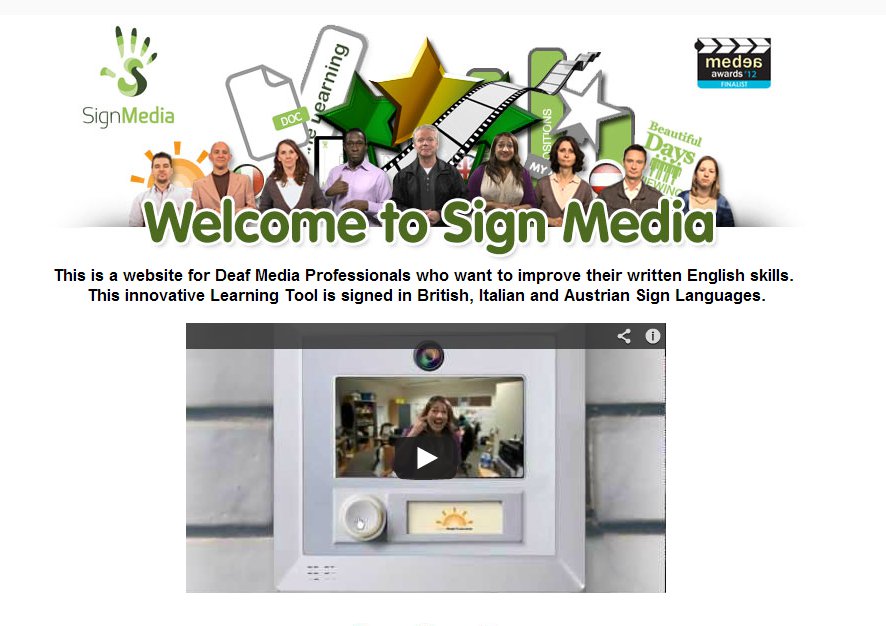 SignMedia is an online learning resource that uses sign language to teach vocational written English to deaf media professionals. The project was proud to be a finalist in the recent MEDEA Awards 2012.
The world of broadcast media offers an increasingly rich source of employment for deaf graduates and professionals across Europe, but the focus on communication through written English still proves to be a barrier for sign language users. Essential production documentation contains challenging technical English, as do many of the instructions and descriptors used in software, hardware and on technological equipment.
The SignMedia project aims to break down these barriers with an innovative and accessible online learning resource that uses Sign Language video and interactive tasks. It has pushed boundaries further in eLearning design, bringing video narrative, and an immersive, alternative reality to deaf online education for the first time. To create an authentic media experience for the users, the learning takes place within a fictional deaf production company whilst working on the soap opera 'Beautiful Days'. All learning
activities are designed around authentic media documentation taken from the production process, such as Risk Assessments, Call Sheets, Treatments and Scripts, thus enabling deaf users to develop language skills that are directly transferrable to their place of work.
The use of Sign Language videos and deaf presenters to teach written English is in itself an innovation. For many years, deaf people have been taught through the spoken word, but recent developments have seen a rise in sign bilingualism across Europe – a teaching method that promotes deaf culture and uses sign language as a method of delivery. Within the SignMedia learning tool, we were determined that Sign Language users would not feel like an afterthought, an 'added extra'.
The visual medium of Sign Languages also means that print dictionaries are of limited use. As a result, it is a real challenge to make specialist language items and neologisms accessible to the wider deaf community and younger generations. This presents an obvious disadvantage to Sign Language users who wish to break into the media industry. SignMedia addresses this need with the inclusion of a signed glossary with language items selected by deaf and hearing media industry professionals.
Target users have described the tool as engaging, unique and fun. We were especially delighted when feedback revealed that the 'alternative reality' learning environment removed the threat and pressure that many deaf people have experienced in formal education. There has also been a powerful response to the Sign Language videos, with deaf adults revealing that they have understood English grammatical concepts for the first time after watching the clips.
The SignMedia project recognises the immense potential of combining the shared visual modalities of e-learning, media and Sign Language. The result is a product that uses contemporary media developments to reflect the vibrancy, creativity and professional aspirations of the deaf community. SignMedia was supported by Leonardo da Vinci Development of Innovation and the consortium included deaf and hearing teams from the University of Wolverhampton (UK), University of Klagenfurt (Austria), University of Turin (Italy) and Mutt&Jeff Pictures (UK). Visit the resource.
By Christine Jolly, University of Wolverhampton, UK