The Potential Impact of Climate Change on Fraser Island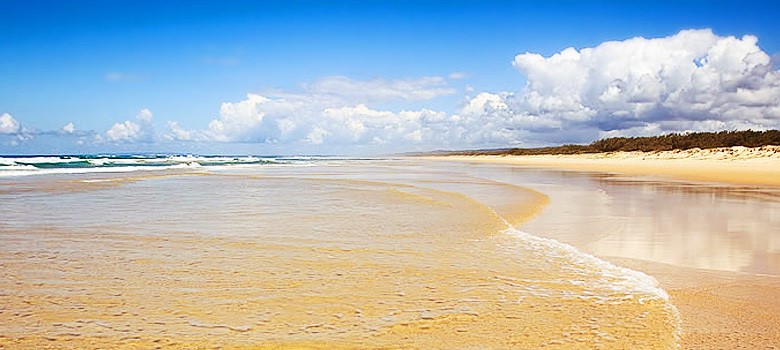 Fraser Island is on UNESCO's World Heritage list. It's the largest sand island on the planet, boasts gorgeous freshwater lakes, towering rainforests, and the idyllic 75 Mile Beach. It's no surprise that the island attracts some 380,000 tourists per year.
Fraser Island is also an important cultural site to the local Butchulla people, who believe the spirits of ancestors still roam the beautiful rainforest trees and sand dunes. The lakes hold a particularly special place, with creeks such as Wanggoolba and Eli being important sacred sites.
But is this natural paradise and cultural shrine at risk? Many experts believe that Fraser Island is increasingly under threat due to climate change. We take a look at how this phenomenon is affecting the island, from changes we're already seeing in the present day to potential consequences in the coming years.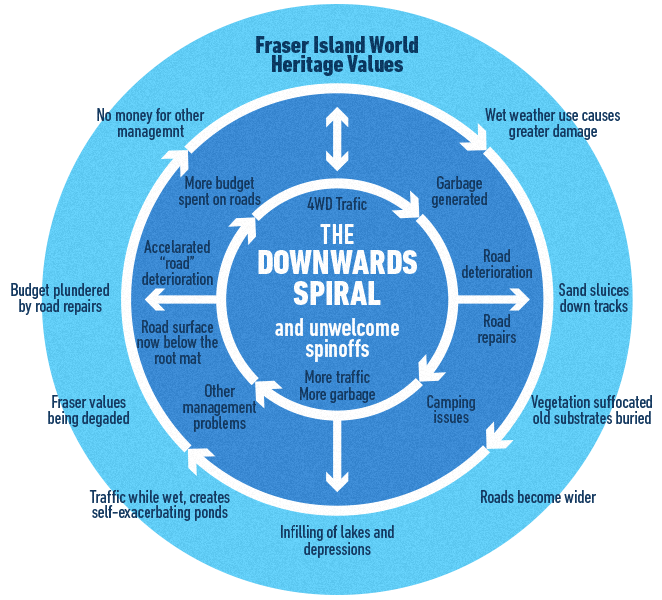 Sea Level Rise
10,000 years ago Fraser Island was part of Australia's mainland, but rising sea levels indicate that much of the island could disappear completely. It's likely that the popular Parallel Dune ridges will be submerged, with the land that's less than 10m above sea level being lost.
Experts speaking at the Sixth Biennial Fraser Island Conference have estimated that the rising sea levels will have an even greater impact on the island than on the Great Barrier Reef (though the state government insists there is no hard data), an area that is widely known to be at great risk. "It's the most 'erodible' surface, it's all sand, it's not rock or anything else," said John Sinclair, organiser of the event.
The Great Sandy Strait can be expected to widen, which will lead to potentially dangerous changes to currents and tidal flows. Furthermore, coastal erosion will lead to changes in wind velocity and increased storm occurrences, again dangerous for both locals and tourists alike.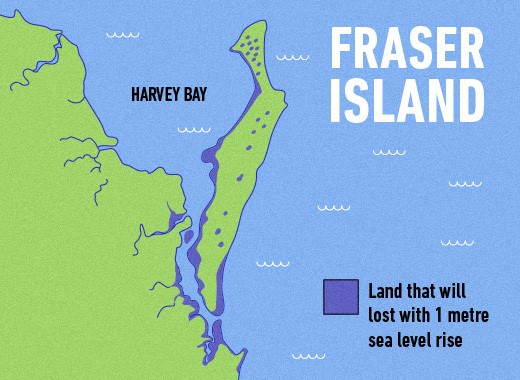 Climate Warming and Variation
Fraser Island is known as an overlap zone in the region, allowing certain species to thrive in cooler temperatures compared to areas further north. Increasing temperatures, however, will translate to species such as the blackbutt and tallowwood disappearing. Fish species such as the Tailor may also opt to migrate to cooler climes. This will undoubtedly lead to lower biodiversity in the region.
Climate change on Fraser Island won't just be limited to an increased average temperature. It will also potentially lead to greater climate variability in the region. This could result in increased occurrences of frost, which even if sporadic will have a potentially catastrophic effect on the region's flora and fauna.
Wind Patterns
Climate change has already led to an indisputable increase of northerly winds, which has led to a neutralisation of the region's south-easterly winds. While this may seem trivial, this trend leads to increased vegetation on the island's famous sand dunes. Noam Levin, a scientist who has been studying the region, has highlighted a significant decrease in the number of dunes since the 1980s. Furthermore, the increased algae have a negative impact on both fishing and swimming, spoiling the island's previously pristine waters.
Perhaps even more worrying is that the combination of increasing temperatures and stronger winds will lead to a higher frequency of fires. Not only that, we can also expect them to be more severe and dangerous both to humans and local wildlife.
Lake Deterioration
Dr Wade Hadwen (Fraser Island Defenders Organisation) has highlighted that the island's lakes are slowly deteriorating. The reasons behind this are two-fold. We first have the aforementioned build-up of algae, which has led to a downturn in water quality. However, the issue can also be attributed to man-made pollution from roads situated near the lakes.
Tourism Impact
Almost four hundred thousand visitors arrive at Fraser Island on a yearly basis. It's expected that this number will only rise. Environmental degradation has not only come as the result of climate change, but also the sheer number of tourists. For instance, water and soil quality have seen a downturn, while the number of 4WD vehicles has led to increased erosion.
What Can We Do?
The potential impact of climate change on Fraser Island makes for bleak reading. But despite this, there's plenty that we can do in order to preserve the natural beauty of this World Heritage site.
Monitor, Research, Mitigate: As noted by the state's comment on the impact on the Great Barrier Reef, some of the data collection is still in its infancy. It's important that we continue to monitor the progression of certain issues (e.g. erosion of sand dunes) to ascertain the gravity of environmental changes.
Adaptation and Management: The number of tourists landing on Fraser Island isn't necessarily an issue, however, it's important that they are managed correctly. Considering that the island's primary revenue stream is no longer sand mining and logging, progress has already been made. Tourism is more sustainable, as long as the correct measures are in place.
Tourists should be taught to engage with Fraser Island in an environmentally focused way. Instead of planning individual journeys, for example, visitors could work closely with experienced tour agencies to ensure a responsible visit to the island. Additional information should also be provided in situ to ensure both tourists and locals alike are aware of the risks of human impact.
Small tweaks can also lead to big changes. For example, experts agree that run-off from sand roads is impacting the lakes. Roads should be relocated further away. While this adds a touch of inconvenience, it's a small price to pay.
Additionally, government agencies should increase investment in sewage management and the installation of environmentally friendly toilet units. This will ensure popular camping areas are kept clean and that degradation of soil quality is kept at a minimum.
Increased Research & Knowledge Share: At present there is a distinct lack of 'cross-fertilisation' of knowledge when it comes to the management of World Heritage sites. Best practices can only be created and adhered to if all involved parties are aware of the latest research and recommendations.
Furthermore, additional academic research is required to ensure the correct action can be taken. The opening of funded doctorate positions is a step in the right direction. The availability of in-depth research will allow both governments and communities to take the correct action.
Cite this article:
Ivanovic J (2015-11-11 06:21:29). The Potential Impact of Climate Change on Fraser Island. Australian Science. Retrieved: Dec 11, 2023, from http://ozscience.com/environmental-science/the-potential-impact-of-climate-change-on-fraser-island/