Sensitizing National Agricultural Research System on Free Open Source Software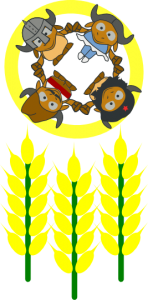 The food grain production in India is reaching an all-time record of 252.56 million tonnes for the year 2011-12. However, as per the report of Sainath (2012) the daily per capita availability of food grains has fallen from 474.9 grams during 1992-96 to 440.4 grams during 2007-2010. This needs a great attention as the population is increasing and there is growing demand for food and nutritional requirements in the country. The one of the United Nation's 'Millennium Development Goals' is reduction of extreme poverty and hunger in the world. Hence, it is the responsibility of the country's National Agricultural Research System (NARS) to make interventions in the sustainable agriculture and to feed its burgeoning population with the recommended nutritional requirements.
When we see at the Indian agriculture, it is rainfed and is very much dependent on the monsoon. Apart from this, it is also facing tough competition from various biotic and abiotic factors and global climatic changes. Marketing of the produce is also a big challenge due to volatile local and global markets. The NARS having the responsibility for the agricultural research, education and extension is looking at the possible interventions for sustainable agriculture and food security. It needs to advise the farmers and policy makers at various levels in the value chain of agricultural production. As agriculture being the principal occupation in the country, timely communication of agricultural information assumes a greater priority as it would help in taking informed decisions. Therefore, use of Information and Communication Technologies (ICTs) in NARS, assumes an important role in all the efforts towards sustainable food production and food security.
Increased use of ICTs would benefit farming in making available the right information at right time. However, the affordability of hardware and software had become the major constraints for the wide adoption of ICTs in the developing countries and in India. This situation could easily be overcome by the adoption of Free Open Source Software (FOSS) products/applications. The FOSS applications developed by the community developers/programmers, who believe in the philosophy that the software should be freely available to all in world to modify, improve, adapt and share. The adoption of FOSS would increase the access to ICTs by overcoming the price barrier compared to the expensive commercial/proprietary software packages. The FOSS products which are built on open standards and protocols allow sharing of information/knowledge across all the technologies and help in collaborating with everyone in the country and world. The advantage with the FOSS is that there would be flexibility in choosing wide variety of software flavors and could migrate from one platform to another easily.
In NARS, however the use/adoption of FOSS products/applications is minimal. Even if at all they are being used, it is because of convenience and not because of FOSS philosophy. Many of the institutions in NARS don't train its students during their degree programmes and train their staff by capacity building programmes because of lack awareness and availability of FOSS trainers in the system. Many believe and argue that proprietary software is easy to use and they are more secure when compared to FOSS and moreover they say that they would get commercial technical support for all the proprietary software. In the NARS since the first establishment of Agricultural Research Information System units which are now renamed as Agricultural Knowledge Management Units (AKMU) centers, had established ICT infrastructure with proprietary software and now they are hesitating to switch over to FOSS. And the decision makers in the institutions prefer to be in the system they are familiar with rather than exploring the available FOSS products. When funds are earmarked for the procurement of software and progress is measured in terms of the money spent, the institutions continue to use proprietary software in NARS.
Under National Agricultural Innovation Project (NAIP) Component – I, though considerable efforts have been made for the use and development of FOSS products, not many of the institutions have adopted the application of FOSS. As it can be seen that under the AGROWEB-Digital Dissemination System for Indian Agricultural Research (ADDSIAR) project, though there is a mention of use of open source software for content management, not all the projects partners have adopted/used FOSS. In the ADDSIAR project, the ICAR could built its website on Drupal; and the IARI and NAARM institutes could built their websites on Joomla. The NAARM had used Moodle for its e-learning initiatives for its students. The other projects in which we could see use and adoption of FOSS are the 'Rice Knowledge Management Portal' (RKMP) by DRR and 'Agropedia' being developed on AgriDrupal under NAIP project lead by IIT Kanpur. It is surprising that under another NAIP project, Strengthening Statistical Computing for NARS proprietary software SAS is being used for training & capacity building NARS researchers but there is no use of FOSS statistical software 'R'. In the precision farming and plant genetic resource conservation and exploration projects too, where Geographic Information Systems (GIS) software is extensively used, there is no mention of using FOSS software like OSGeo which could be effectively used. However, in most of the GIS trainings programmes, commercial proprietary software is used rather than FOSS. In the Project Information & Management System of ICAR, to add the projects, one has to use only Internet Explorer and other Internet browsers do not work.
In NARS, about 100 scholarly societies are registered and they publish scholarly journals and organize conferences, seminars, and symposiums. All of them uses email for the paper submission and makes available them in printed books/CD-ROMs to all the attendees. However, the non attendees never get access to the abstracts, papers, and proceedings. When, the conference proceedings are managed and made available online, then the there would be greater reach of information and research outputs. The FOSS products from Public Knowledge Project's Open Conference Systems (OCS) and Open Journal Systems (OJS) could effectively used by these scholarly societies for the conference and journal publication. In NARS, only KAU's Journal of Tropical Agriculture, UASD's Karnataka Journal of Agricultural Sciences and 'Indian Agricultural Research Journals' of ICAR's  NAIP project are using OJS and OCS is never used till date. Similarly the FOSS products viz., AgriDrupal, AgriOcean DSpace and VocBench from the 'Agricultural Information Management Standards' of Food and Agricultural Organization could be used in NARS for the knowledge dissemination. During the past year, we could only see only one short course on FOSS in development of agricultural information and communication management system organized by CIRG.
This shows that NARS needs sensitization and capacity building in use and application of FOSS in agricultural research. For this, a new initiative FOSKIARD (Free and Open Software and Knowledge Initiatives in Agricultural Research for Development) has been taken up by FOSS evangelists in NARS. It intends to conduct sensitization & capacity building workshops at various institutes of NARS and impress upon the NARS managers for the need of creation of central AKMU computer labs with FOSS operating systems like Ubuntu. From the workshops it is expected that the agricultural researchers, FOSS developers, free knowledge advocates and legal experts can meet, interact and could work for the development of applications of FOSS products relevant to agriculture for sharing agricultural information and research outputs for public good.