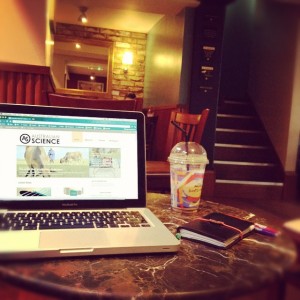 Science Sunday! What better way to spend the day than to kick back and let some of the week's best science stories come to you.
Firstly, right here on Australian Science, Markus tells the story of the world's slowest experiment — that is still going.
"This curious looking setup is the pitch drop experiment. Some people reading this will undoubtedly know of it. Set up at the University of Queensland in 1927 by Professor Thomas Parnell, this experiment may take a few of your ideas about what a liquid actually is and turn them on their heads. Pitch, you see, is a liquid. But if you were to see some of it up close, you might not think so. To our eyes and senses, it appears to be a solid. It's a black, waxy looking substance, a derivative of tar which ship builders used to use to waterproof boats. You can think of it more or less like a liquid which moves in slow motion. Extremely slow motion! Pitch is so viscous and flows so slowly that you can quite easily pick up a piece of it and hold it in your hands. You can snap pieces of it off, and if you hit it with a hammer, it will even shatter. But make no mistake – pitch is not a solid."
Scientific fraud just got a whole lot more serious. Altering data is always inexcusable, and goes against the founding principles of life as a scientist.
"A British scientist working for a clinical trial company has received a 3-month prison sentence for falsifying data. Steven Eaton, an employee of the American-owned firm Aptuit, was convicted in March and sentenced in April in Edinburgh for altering results to make unsuccessful drug trials appear successful. He is the first person imprisoned for violations of Britain's Good Laboratory Practice regulations, adopted in 1999."
Next week, MSF hold their annual Scientific Day, where you get to know a lot more about the organization. Not just humanitarian work but they do and partake in vast amounts of research.
"Does blogging help patients cope with the lengthy and toxic treatment for multidrug resistant tuberculosis? Do humanitarian responses to crises fail to take sufficient account of the plight of elderly people? Is giving money more effective than giving food supplements to tackle child malnutrition? And will global health expert and Ted Talks alumnus Hans Rosling repeat his sword swallowing routine? These are just a few of the questions that will be answered at the 2013 Médecins Sans Frontières (MSF) Scientific day, screened online live all day from the Royal Society of Medicine, London, UK, on Friday, May 10th."
Finally, the fantastic Rebecca Kreston, who writes the wonderful blog-after-my-own-heart Bodyhorrors has made a move over to Discoverblogs. And her first post there is about how to get STDs through social media.
"The proliferation of high-tech, pocket-sized devices has increased our interaction with social networking applications and websites such as Twitter, Facebook and Craigslist. These networks not only keep us in constant contact with our families, friends, colleagues, and the creepy mouth-breather who sat next to us in tenth grade social studies, but also allow us to form new relationships anytime, anywhere, as the mood strikes us. There are, in other words, a wide variety of emotional itches that our smartphones and access to social media allow us to scratch. It is worth remembering, however, that when it comes to sex, that itch may be especially transmissible. In an article published this month looking at how Craigslist facilitates internet hook-ups and sexual transactions, the authors note that our advancements in technology are intricately tied to our sexual health"