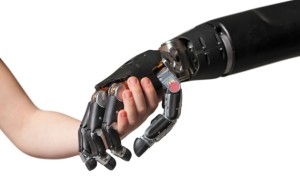 These were the science stories that resonated the most for me this week. Gene snipping, CO2 alarms, and brain-controlled prosthetics – an array of stories touching on the impossible, and yet, totally possible.
Given the way budgets and financing have always dominated the path of scientific research and with the rise of start-ups and crowdsourcing dominating many a young entrepreneurs dream, this story is important for many reasons. It raises the questions of safety, ethics and regulatory responsibility. It is a must read.
A Dream of Trees Aglow at Night by Andrew Pollack
But part of the goal is more controversial: to publicize do-it-yourself synthetic biology and to "inspire others to create new living things." As promising as that might seem to some, critics are alarmed at the idea of tinkerers creating living things in their garages. They fear that malicious organisms may be created, either intentionally or by accident.
I've written many times about CO2 and climate change and the topic is always in the news. So if there is a 'sense of urgency' on CO2 levels, it will be interesting to see what action is taken. For instance, will China and the US actually co-operate on clean technology?
Scientists call for action to tackle CO2 levels by BBC News
Daily CO2 readings at a US government agency lab on Hawaii have topped 400 parts per million for the first time.
And another CO2 story worth reading on CO2 from the BBC:
Arctic Ocean 'acidifying rapidly' by Roger Harrabin
"There's slow mixing so in effect we get a sort of freshwater lens on the top of the sea in some places, and freshwater lowers the concentration of ions that buffers pH change. The sea ice has been a lid on the Arctic, so the loss of ice is allowing fast uptake of CO2."
This next and final story is of colossal importance to science and society. The strides being made on this front are simply amazing.
Neuroprosthetics: Once more, with feeling by Roberta Kwok
Her gaze never wavers as she mentally guides a robot arm beside her to reach across the table, close its grippers around the bottle, then slowly lift the vessel towards her mouth.
Cite this article:
Burnes K (2013-05-12 16:38:35). Weekly Science Picks. Australian Science. Retrieved: Oct 03, 2023, from http://ozscience.com/news/weekly-science-picks-30/