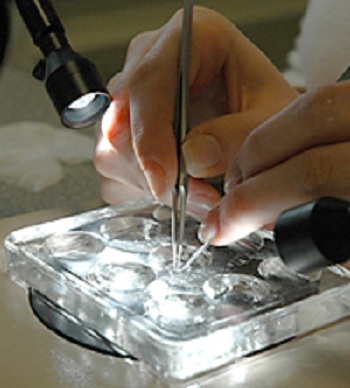 September 7 2012
Cancer research has taken a major step forward in Victoria as the Victorian Cancer BioBank and BioGrid Australia join forces to improve bowel cancer management.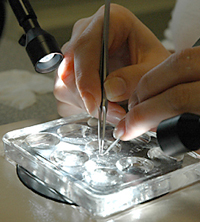 The collaboration allows researchers for the first time in Australia to access detailed data associated with tissue and blood samples.
Maureen Turner, CEO of BioGrid Australia, said today: ³Our collaboration opens up new possibilities, further strengthening the work that is underway to establish an integrated technology platform for cancer research in Victoria,² she said.
The Victorian Government announced in the 2012 Budget the development of an integrated cancer research platform under the umbrella of the Victorian Cancer Agency.
Bowel cancer research will be the first to benefit from the new association. Led by Dr Jeanne Tie, up to 13 sites are involved in the project, including clinicians from Royal Melbourne, Western, Austin and Box Hill Hospitals are examining whether circulating tumour DNA (ctDNA) is a reliable blood biomarker for the presence of colorectal cancer.
The clinicians are currently recruiting suitable participants for the study before taking serial blood samples.
Up to 900 blood samples over four years will be processed by Victorian Cancer Biobank staff across all four sites within three hours of collection. The plasma samples will be stored on ice before being shipped to the research laboratory for ctDNA analysis.
Dr Anne Thompson, CEO of the Victorian Cancer BioBank said: ³Interpreting the clinical usefulness of this biomarker relies on correlating ctDNA levels with the histopathology of the tumour, the treatment given to the patient and imaging results used to monitor effectiveness of treatment.²
³With the link now in place, researchers are able access secure, ethically approved data provided through BioGrid Australia to learn more about disease recurrence and survival.²
³This type of approach was not available before in Victoria, and it seemed logical to join forces for better cancer research results,² she added.
This new data linkage service between BioGrid and Biobank is available to all Australian researchers. The Victorian Cancer BioBank and BioGrid Australia chose bowel cancer as the first cancer to be supported through the collaboration because Australia has one of the highest rates of bowel cancer in the world and bowel cancer is the second most common type of newly diagnosed cancer and causes the second highest number of cancer deaths in Australia. Around 14,225 Australians are told they have bowel cancer every year but it is one of the most curable types of cancer if detected early, however, fewer than 40% of bowel cancers are detected early.
The collaboration has other immediate benefits for Victoria, according to Ms Turner. ³While Victoria is actively securing clinical trials to take place in Victoria, trials can and do have their limitations,² she said.
³For instance, often older or frail patients are excluded from trials leaving doctors uncertain as to whether trial results are relevant to many of the patients they see in routine practice.²
She says the approach that BioBank and BioGrid is taking ensures that biospecimens together with data will inform data analysis across all ages and stages of cancer through translational research projects and multi-centre clinical trials. ³What we have together is a very powerful draw card for attracting international research to Victoria, as larger numbers of patients participating in our services can be amassed more rapidly.²
BioGrid Australia
BioGrid Australia (www.biogrid.org.au) is an innovative health research platform that facilitates ethical privacy-protected research across many hospitals and medical research institutes. BioGrid provides a web-based Access Request System by which researchers can apply for access to specific databases. Sometimes additional ethics approval is required. Through this system, the data custodians authorise access to their data and a Scientific Advisory Committee assesses the proposed investigation.
Victorian Cancer BioBank
The Victorian Cancer Biobank is a not-for-profit consortium of tissue banks, supported by the Victorian government through the Victorian Cancer Agency. Our coordinated and integrated program collects and distributes tissue samples to researchers in Victoria, Australia and throughout the world. Our purpose is to provide high quality, ethically obtained biospecimens to support research that will lead to improvements in cancer diagnosis and treatment and deliver better clinical outcomes to people with cancer.
Media inquiries: Penny Underwood, MediaWise, on 03 9818 8540.