[Press release]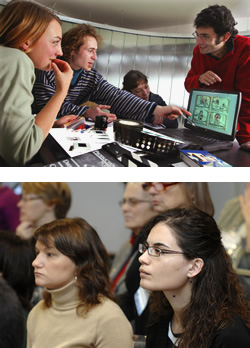 The Media & Learning Conference taking place in Brussels on 14 and 15 November 2012 is aimed at anyone who wants to find new and effective ways to use media to enhance the learning process. It has three main themes; mapping future trends and developments in media-enhanced learning in all sectors, boosting skills and competences in media production, use and re-use of media-enhanced content and tracking the importance of media literacy and wisdom as fundamental building blocks in the creation of innovative, inclusive and futureproof education and training.
The conference programme is now available online. Keynote speakers include Xavier Prats Monné, Deputy Director-General for Education at the European Commission and Guus Wijngaards who will present his take on the educational media trends of the future based on the recent highly rated NMC Horizon Report. Andrew Keen, author of "Digital Vertigo: How Today's Online Social Revolution Is Dividing, Diminishing, and Disorienting Us" will put forward his controversial ideas about social media and will also join fellow speaker Pedro De Bruyckere, author and educational scientist in a discussion with the audience into the myths that surround the value and impact of video and social media and the expectations of GenY.
Developmental psychologist, Edith K. Ackermann will describe the new media ecology and new genres of engagement while Marci Powell from Polycom will talk about global trends in media-enhanced learning. Brian O'Neill from Dublin Institute of Technology and EU Kids Online, will put forward his ideas on how education fares in today's media and communications environment.
The programme features an in-depth look into media literacy schemes and policies with reports on what is happening at a national level given by Anniina Lundvall from the Finnish Society on Media Education and Alberto Parola from the Italian Association of Media Education. Cross-border reviews of media literacy and education schemes will be presented from the EMEDUS study and the MEDEAnet investigation into 7 European countries. Face-to-face discussions on the current status of media literacy in Europe will be backed up with online debate and knowledge sharing.
The programme includes both discussion and presentation sessions dedicated to the latest developments in lecture capture and speakers will include Marko Puusaar from the Estonian Information Technology College, Estonia, Carlos Turro Ribalta,
from Universidad Politécnica de Valencia, Spain and Roman Verraest, from KU Leuven, Belgium.
Innovation in teaching features throughout the conference agenda and we will be exploring Transmedia – an increasingly popular approach to digital storytelling, the value and impact of three-dimensional learning content (3D) as well as what it means to 'flip the classroom'. We will be showing and discussing different learning games and media-rich simulations, exploring how media can support science teaching and considering the value and impact of video in the learning mix.
This year there are two optional pre-conference workshops taking place on 13 November, an afternoon visit to the Future Classroom Lab in European Schoolnet and a full-day workshop on lecture capture organised by the REC:all project and hosted in the Department of Media & Learning in KU Leuven. A special feature of this year's conference is the launch of the new MEDEA/Media & Learning Association which will have its inaugural meeting during the conference. The MEDEA Awards Ceremony takes place alongside the conference on Wednesday 14 November and participants are welcome to join this event where the overall winners of this year's competition will be announced.
Tto find out more visit the conference website.