Connected and Free: World Wide Web professionals at #WWW2012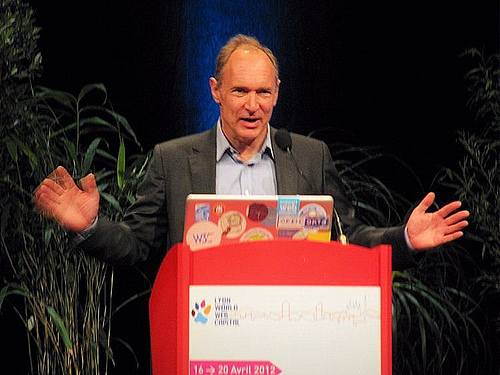 This is the Part II from the highlights of the World Wide Web 2012 (#WWW2012) conference and here are some notes of mine but this time focusing on people, attendants who have been actively participating in the web professionals meeting and their impressions of the conference. 
Beside numerous tracks, sessions, workshops, and tutorials – the #WWW2012 offered interesting keynotes by the leading and prominent professionals in Web industry, research, and policy. The main keynote speakers were Tim Berners Lee, the inventor of Web, Bernard Stiegler – a director of IRI (Innovation and Research Institute) at the Georges Pompidou Center in Paris, a professor at the University of Technology of Compiègne where he teaches philosophy, Chris Welty – a Research Scientist at the IBM T.J. Watson Research Center in New York, and Neelie Kroes, a Vice President of the European Commission and European Digital Agenda Commissioner.
I asked some of the many colleagues, peers, and presenters about their preferred event on the World Wide Web 2012 conference, and what presentation/session/keynote/workshop made the best impression on them, and why.  Here are some interesting thoughts.
New software paradigm, and Social Media in Response to a Crisis
I'll start with volunteers at the conference since they had a great job to do and many of them are web researchers, students, and professors.
Jean-Tiare LE BIGOT: "I am currently studying telecommunications in Lyon (France) and attended the www2012 as a Volunteer. In my spare time, I try to create an archive of network status map.  As a Volunteer, it has been quite tricky for me to choose and attend the presentations. Nonetheless, I had the luck to see all keynotes in the auditorium. As many of the attendees, I appreciated TBL talk on the values of the Web and also the debate of the following day. But the one I preferred was the one by Chris Welty. He talked about IBM's Watson project and the steps which enabled Watson to defeat humans in the Jeopardy show. I really enjoyed the humor in his explanations when he showed us the biggest fails :). "
Watson is an Artificial Intelligence system designed to answer real world questions as in the Jeopardy show or financial/medical world. During his presentation, Chris Welty stressed on point: Machine's understanding is in no way the same as human's. This is to illustrate this point that he showed us some failed answer which is obvious for a human being. An example:
Cindy Hui:  I am a post-doctoral researcher at the Rutgers University. My research includes modeling and simulation, social networks, social computing, and disaster research. I presented a paper at Social Web for Disaster Management Workshop titled "Information Cascades in Social Media in Response to a Crisis: A Preliminary Model and a Case study."
 "There were so many interesting workshops and sessions at WWW2012 that covered such a variety of topics, but I mostly attended the ones that focused on social networks and social media since those are my areas of interest.  In particular, I was very excited about the Social Web for Disaster Management and the Making Sense of Microposts workshops since there's such a growing focus on how to analyze and make use of these community-driven, collective information from various social media platforms. It really brings together people from computer science, social science and policy practitioners, each contributing important pieces to the overall focus."
Web and philosophy
"If Tim Berners-Lee and Harry Halpin can raise the question of a universal right to Internet access, a question that a philosophy underlying the conception of the web must incarnate, and of which W3C would be the bearer, this is precisely because the web is a function of a digital technical system which could be otherwise, and which could even disappear, and if they argue that this is a right, it is because this philosophy and this stability must support the need to ensure not only a certain conception of the internet, of its functions and its goals, but the sense of spiritual and social progress that digitalisation in general must constitute." – Bernard Stiegler
Greg Ver Steeg, a computer scientist at the Information Sciences Institute at USC working on causal inference in complex networks, presented his WWW2012 paper. Check out Greg's blog.
"Although I was shocked to see a philosophy talk at a computer science conference, I found Bernard Stiegler's keynote provocative. Most computer scientists take it for granted that the web is a powerful democratizing force, but Stiegler introduced a possible dark side. To give an imperfect summary of his philosophical premise with a computer science allegory, imagine each human brain is running some software, which can be rewritten by interactions with books, the web, etc. If your brain is running the equivalent of Windows95, connecting it to the web is only going to add a drone to the currently most powerful botnet. Therefore, if we consider the web as a human right, we should also carefully consider what form this right should take and what education, or "firmware upgrades", are necessary to lead to a universally positive experience. "


#www2012, Lyon Convention Center, Cité de Congrès; Source: Radovanovic, D
Alexandre Monnin is a Head of Web and Metadata Research at Institut de Recherche et d'Innovation (Centre Pompidou), PhD student at Paris 1 Panthéon-Sorbonne (Phico, EXeCO), Associate researcher at INRIA (Wimmics).
"I co-organized a workshop at WWW 2012, PhiloWeb 2012 , where I particularly enjoyed François Rastier's presentation about ontology. Rastier insists on the limits of computer ontologies and is quite critical of the Semantic Web in general. For him, it's just philosophy objectified – I kind of agree with that but for me, this objectification, what I call "artifactualization" (the fact that we now do a lot of philosophy in engineering!) creates lots of differences with previous philosophical positions ; the latter are not just realized in artifacts but also modified when one looks at the details. Thus we end up having a new philosophy in spite of the description people generally give of the Semantic Web by referring to previous theories and positions: reality is more complex and interesting."
The future direction of the World Wide Web
Finally, my personal highlight was Tim Berners Lee (TBL) keynote that was the star of the conference. The Inventor of the World Wide Web and Director of the World Wide Web Consortium (W3C), on April 18th gave an insightful keynote on different aspects of the current situation of web and the future directions that all of us should be aware of. Among a number of very interesting topics, he tackled issues such as: democratic platform, decentralized and open (data) – he talked about the principle of least effort when designing new languages,  encouraging the usage of open mobile applications if they don't like the world of closed systems. He also stressed as in the panel the importance of the openness – open data, suggesting that the UK government needs to understand what open standards are, and urged the same for governments in any country to embrace the movement of open data. Data should be open for public:  government statistics, economic, social, demographic, non-sensitive related to democracy and political debate.
Photo credit: Radovanovic, D.
TBL also opposed to the treaties that advocate increased surveillance of the Internet, including ACTA. He welcomed web activism and that analogue events were organized world wide to defend the virtual realms. He concluded and asked the audience to: "This is what we must do: spend 90% of our time doing cool stuff, invent new things [. ..], but the remaining 10% go to protect the open Web infrastructure on which all this is built. Because otherwise we cannot innovate, because the platforms will be closed, because service providers will control traffic."
It seems that decentralization hits everything, social design of web, decentralized design, understanding how web works (21st century literacies, digital literacy, etc.) and the notion that we have to keep the Internet open and neutral. Democracy depends on the open internet, and so the human discourse depends on the open internet with massive engagement where everyone gets involved.
The plenary keynotes videos are now available online.
Cite this article:
Radovanovic D (2012-04-28 00:09:06). Connected and Free: World Wide Web professionals at #WWW2012. Australian Science. Retrieved: Oct 02, 2023, from https://ozscience.com/interviews/connected-and-free-world-wide-web-professionals-at-www2012/