DARPA's ATLAS Humanoid Robots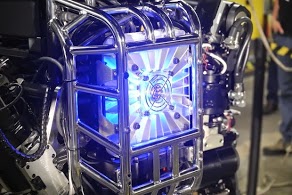 NASA is exploring peaceful civilian space applications for ATLAS-related technologies. Atlas is a new humanoid robot 6 foot, 2 inches tall weighing 330 pounds. Atlas is initially being designed to provide humanitarian assistance in disaster response/crisis situations.
NASA's Johnson Space Center (Valkyrie) and Jet Propulsion Laboratory(RoboSimian) teams are participating in the DARPA Robotics Challenge (DRC) focused on developing innovative software to control the robot's functions. Last month, DARPA awarded funds and an Atlas robot to 7 teams who competed in a software challenge leading up to the first leg of the Robotics Challenge, which kicks off in December 2013.
According to the project website, the goal of the DARPA Robotics Challenge is to create robotic systems that can work "in tandem with their human counterparts, in order to reduce casualties, avoid further destruction, and save lives."
Atlas can travel through rough terrain outdoors and climb using its hands and feet. The robot features two fully working hands with four fingers, including opposable thumbs, 28 hydraulically actuated joints, a "head" with LIDAR and stereo sensors, automatic crash protection, and an on-board, real-time control computer. In a demonstration video, Atlas easily avoided obstacles, maintaining a steady gait despite unexpected changes to the terrain, and even maintained its balance when struck by a large object.
"Articulated, sensate hands will enable Atlas to use tools designed for human use," Boston Dynamics says. "Atlas includes 28 hydraulically actuated degrees of freedom, two hands, arms, legs, feet, and a torso."
Its head includes stereo cameras and a laser range finder. It's currently tethered to an off-board, electric power supply which limits its range for the moment.
Specifications:
– Six feet, two inches tall (1.88m)
– 330 pounds (150kg)
– On-board real-time control computer
– On-board hydraulic pump and thermal management
– Tethered for networking & 480-V three-phase power at 15 kW
– Two arms, two legs, a torso and a head
– 28 hydraulically actuated joints
– Carnegie Robotics sensor head with LIDAR and stereo sensors
– Two sets of hands, one provided by iRobot and one by Sandia National Labs
Defense Advanced Research Projects Agency (DARPA) is an agency of the United States Department of Defense responsible for the development of new technologies for use by the military.
Boston Dynamics is an engineering and robotics design company best known for the development of the humanoid robot ATLAS and BigDog, a quadruped robot, both designed for the U.S. military with funding from DARPA. The company was spunoff from the Massachusetts Institute of Technology (MIT).
The DRC groups are not starting from scratch: thanks to the physical modeling of the DRC Simulator, the software algorithms successfully employed by teams in the previously held Virtual Robotics Competition (VRC) should transfer relatively easily to the ATLAS hardware, according to DARPA officials. The teams will be presented with tasks for ATLAS, such as driving a utility vehicle, walking over uneven terrain, clearing debris, breaking through a wall, closing a valve, and connecting a fire hose.
Ultimately, despite its advanced nature, ATLAS is essentially a physical shell awaiting its software brains that, along with the actions of a human operator, will guide the suite of sensors, actuators, joints and limbs through a series of tasks.
In order to accomplish this, the winning teams will receive funding from DARPA and ongoing technical support from Boston Dynamics, the developer of ATLAS.
Dr. GIll Pratt, Program Manager for the challenge, said DARPA is investing in an open-source simulation package to advance the state of the art in robotic simulation. "In particular, we want to have these tools outlast the program and be the foundation for catalyzing the field of robotics, particularly helping to make the design of robots move from an art to a science,"  he said. DARPA is also funding the Open Source Robotics Foundation to further develop a preexisting simulator that will use cloud computing for quick and easy scalability.
Credit: +DARPA/Boston Dynamics, IEEE Spectrum