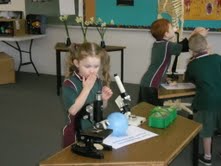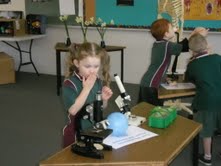 In my last post, I talked about the role of imagination in science and early childhood education and the U.S. efforts on encouraging students to pursue careers focused on STEM (Science, Technology, Education and Mathematics). I also mentioned that I would be featuring a primary school in Brisbane, Australia to gain an understanding of their science curriculum. If Australia was worried about their place in the global rankings of science and math test scores and working to get kids interested in science at an early age, they only need look at the example being set by Mitchelton State School. It starts with passionate and committed teachers.
SC@M
The Science Club at Mitchelton (SC@M) came about as an initiative of teacher Ms. Danielle Spencer. After completing an Education Queensland scholarship-funded Graduate Certificate in Primary Science, she wanted to start a club at Mitchelton dedicated to promoting students' interest and involvement in science, and particularly to encourage girls to participate. With the support of Principal Roger Sheehan, Ms. Spencer worked collaboratively with Ms. Katie McIntyre, Head of Curriculum, and the two educators laid out the objectives for the new science club:
1)      Promote science and a love of scientific enquiry within Mitchelton State School.
2)      To provide opportunities and facilities that support scientific interest.
3)      To liaise with external groups with similar objectives and aims.
4)      To encourage girls interest in science.
To join SC@M, students were asked to submit an application containing a series of questions about their views on science, why they wanted to join and what they wanted to do in the science club. For some of the questions they were asked whether they agreed with a statement and why or why not. For example, 'Science has too much math in it' and 'Men are better at science jobs than women'. I find it fascinating the children were questioned about their views on the gender imbalances in science. This area is a personal research interest for Ms. Spencer. Once the application portion was complete, students agreed to commit, with the support and consent of their parents, to attend each week for one lunch break and participate fully (and safely) in all activities.
Each term would be dedicated to a different area of scientific knowledge including physics, biology, chemistry and earth science driven by the children's interests. To ensure that student activities are developmentally appropriate for the students, Mitchelton established SC@M to focus on Years 4 to 7. However, they are finding the younger kids want to join the science club too; so discussions are underway to assess the feasibility of adding a second period to the week allowing them to participate in activities geared toward their age and comprehension level. Less than two months old, I'm not sure the school was prepared for the level of enthusiasm displayed by the students to participate in SC@M once National Science Week came around and more children applied for the club. Thirty-nine children are now participating in the science club, and if numbers keep increasing they may have to initiate a cut off and place children on a waiting list.
National Science Week
National Science Week started 15 years ago, but this was Mitchelton's first year participating in the nationwide event (August 11-19th) and to really shine the spotlight on it, they organised a Science Expo at the school to run for the whole week. The event included hands-on activities allowing the students to investigate the properties of slime, rocks and sound; exploring world's not seen by the naked eye with microscopes; and discovering natural events such as tornadoes in a bottle and exploding volcanoes. The entire school took part in the Science Expo with a poster design contest, a competition to name the school's new skeleton, and a scientist dress-up day. The kids listened to a brief presentation from one of the SC@M coordinators and then were free to explore and interact with the exhibits for 45 minutes. Many of the children were having so much fun they did not want to leave when their time was up.
Mitchelton opened up the Science Expo to the public for two afternoons so parents and members of the community could engage in scientific exploration with their children and others. Here the SC@M members chaired the different science stations and provided their expertise and scientific rationale to the public. In addition, the school invited members of the high school community to share the experience by presenting a Science Show to the students and hosted a representative of the Young Scientists Association. On the final day of Science Week, a group of visiting scientists presented science demonstrations at a school-wide event. These activities involving the high school students and the visiting scientists clearly demonstrate Mitchelton's holistic thinking on identifying and building the scaffolding necessary to show students that a pathway to continue their pursuit of science does exist.
The science club is the highlight of my week, just love it! – Danielle Spencer, Teacher at Mitchelton State School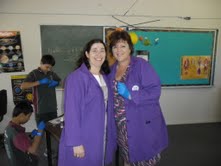 Australia Places National Emphasis on Early Childhood and Science
I wanted to know if the same emphasis on early childhood instruction is placed on teachers, kids and schools in Australia, as in the U.S. Ms. McIntyre stated, "There is certainly a huge emphasis placed on early childhood development, and in more recent times, Queensland education has focused on increasing students participation in a pre-prep program similar to other states." This has resulted in the establishment of a large number of independently run pre-prep centres housed in primary schools. She went on to say teachers are finding that the Australian Curriculum is expecting more of students at a younger age and they are adapting their teaching practice to this requirement. While the prep curriculum remains play-based, there is a growing emphasis on explicit instruction in literacy and numeracy. This is similar to what is happening with the early childhood curriculum in the U.S., though I will have to leave my compare/contrast analysis for another posting and get back to science.
Both Ms. Spencer and Ms. McIntyre agree the Australian Curriculum endorses and provides a hands-on approach to engage children in science and develop that passion for it. Ms. McIntyre indicated that in addition to exposing children to science, it's also essential "to develop the attributes of curiosity that are necessary to the investigations around science." One way Mitchelton incorporates this active learning involves activities from CSIRO – The Commonwealth Scientific and Industrial Research Organisation. Ms. Spencer has used numerous activities from CSIRO, (e.g. The Helix and Scientriffic magazines) in her classroom and feels CSIRO provides a valuable resource for science teachers in Australia. She appreciates that the activities are enquiry-based and directly linked to the different strands of the Australian Curriculum. Having that link between CSIRO and the national curriculum is vital. I believe this level of collaboration demonstrates a complete feedback loop where the local level works with the state and national levels to influence and advance the science curriculum and grow the interest and passion for careers in science.
It's inspiring to hear and see the students at Mitchelton wanting to be involved and, in fact, demanding more science in their school day. In addition to joining SC@M, several students who displayed an increased aptitude for scientific enquiry were encouraged to enter national science competitions such as the 60Second Science Video Competition (organised by Brendan O'Brien and sponsored by the Department of Education and Early Childhood Development in Melbourne, Victoria), and the NATA Young Scientist of the Year Award. At this writing, I am pleased to report that Mitchelton swept the primary school award category for the entire state of Queensland. The winners and notable mentions are:
1st Place: Xanthe Czerniawski
Runner-Up: Jessamy Bryant, Jacob Schofield & Hunter Griffiths
Highly Commended: Amelia Czerniawski
Highly Commended: Amelia & Claudia Czerniawski
Well done, kids!
How Australia Must Inspire its Young Scientists 
The Australian Curriculum has identified science and math as two of the core priorities to prepare students for further study in science and technology careers, though Ms. Spencer worries the problem Australia faces "is the declining involvement in math and science carers." She states this is particularly notable with girls and has been the basis for numerous national studies and strategic reports. Both Ms. McIntyre and Ms. Spencer feel that the primary school setting could use more resources and funding as they are limited to the types of scientific experiments they can instruct children in. We all understand budgets are tight, but earlier exposure to quality science activities could raise the interest level of children, providing long-term benefits. Where do you put the money for the greatest return on long-term investment?
The other investment that must be made is in teachers. Teachers who continue their professional development, who pass their love of learning for exploration and discovery in the pursuit of science, (and any discipline, really) is how kids will continue on with careers in science and technology. It's not a guarantee of course, but teachers are that spark to the kindling that starts the fire of learning in students. It's up to the students to carry the torch. It would be interesting to follow up later and see how many of this inaugural group of SC@M members are working to cure diseases, attempting to solve our energy problems and tackling our food security issues. Or maybe they go on to design buildings, work in government to protect our natural resources with laws and regulations, or use their social media gadgets to communicate the stories of science to others. But we'll have to wait a few years for that. In the meantime, let's hope their curiosity in learning continues and prepares them well for the avenues they choose to travel. They have a head start at Mitchelton.
Special thanks to Mitchelton State School staff – Roger Sheehan, Danielle Spencer, and Katie McIntyre – for their gracious participation in the Q&A and photos for this article and the commitment they demonstrate in providing an enriched, quality education for the children in the community they serve.