The Psychology of First Impressions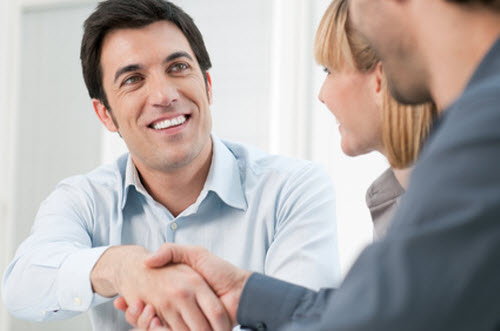 Though one must not judge a book by its cover, a job candidate only has thirty minutes to prove his or her worth to a hiring manager. Thus an interviewee's cover must be able to represent the qualifications and potential that lies within. Since the job market is full to the brim, it is not realistically possible for hiring agencies to allocate equal amounts of time and resource to each candidate. If a candidate wishes to stand out in such a situation, he or she must understand the psychology behind first impressions.
Ann Demarais and Valerie White together wrote a book titled First Impressions: What You Don't Know About How Others See You. The book helps one to understand how he or she can best present themselves in any situation. Though a first impression will never tell the whole story, it is the only thing that a stranger has to judge someone. Of course the mood of the interviewer does play a crucial role but according to the book, three characteristics namely speech, body language and confidence play an equally important role in this regard.
A first impression is like a filter. People absorb initial information by noticing your body language and assessing what you say. This information helps them determine what you are like and how you would react to situations in the future. Thereafter they keep seeing you through this filter because everyone likes to believe that they knew what you were like from the first moment they met you. While some interviewees may have to go through several rounds of interview to finally get a job, the impression that he or she makes the first time is the one that the interviewer is most likely to stick by.
According to a study published in the Journal of Experimental Psychology, the first impression is likely to dominate regardless of how a person may contradict it by new experiences at different times. If you can impress an interviewer at the first meeting, you are likely to maintain that image but if on the other hand you come off poorly at an interview, it might be close to impossible to change that impression.
How can you use the first impression to your advantage?
Here is a list of tips that will help you create a great first impression and increase your chances of getting that job you have always wanted!
· Be on time – Research shows that for every second you arrive late at an interview, you lose some traction with the interviewer and you will never be able to regain this loss. For an interview, ten to fifteen minutes before time is considered to be on time. Behaviour is often associated with personality so if you reach early your interviewer will also assume you have good organisational skills.
· Look fresh – Appearance is very important. Some physical characteristics can determine the final outcome of the first impression. Your eyes should be bright and open. Avoid averting them as that will make you appear insecure. Get a good night's sleep before your interview so that you appear fresh. A lack of smile will make you appear disinterested so remember to smile just enough to convey eagerness and emit warmth. Always attend an interview in conservative clothing even if the company you are applying to is alternative and funky. It is the safest option that will keep you from being judged.
· Be personable – Remember to seem simple but be confident at the same time. Work on your chemistry with the interviewer while making sure you are polite. If the interviewer tries to lighten up, maintain a professional distance so that you seem poised and sincere.
· Practice – If you are not sure how you will seem at your interview, it is a good idea to practice a few times. Prepare a list of your strengths and weaknesses so that you can handle any question that is thrown at you. Run a search about the company so that you have adequate information about where you are headed. Basically all you need to do is anticipate your interview and prepare accordingly.
Once you lock in an interview, you are obviously moving towards the right direction. You were chosen from a much larger pool of applicants for an interview so have faith in your education, experience and skills. If you impressed them without seeing them, there is little that could go wrong when you meet them in person. Be confident and comfortable and let your personality show. Since you won't get another chance to make a first impression, give your best shot at this interview.