The Gender Myth and Science. Our Response at SC@M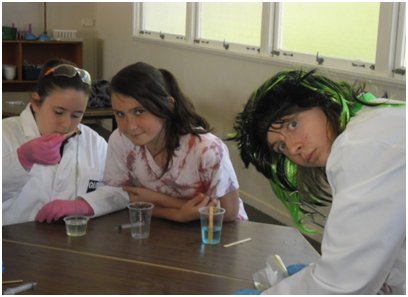 Girls are just not as good at science as boys. Men do hard sciences, women do soft sciences. Gender stereotypes have existed long-term throughout the spectrum of sciences. Most people have witnessed it first-hand. Patients question expert female doctors, yet implicitly trust their male counterparts. Laboratories are full of female scientists with male leads. Why do we trust the judgement of men in science before females? Just where do these gender stereotypes come from and when do children start believing in them?
SC@M (Science Club at Mitchelton State School) began mid-2012, attracting 45 students from Grades 4-7. Of the applicants, 21 were girls, 24 were boys with their ages ranging from 9-12 years. Included in the SC@M application process, students were asked a series of gender and science related questions to elicit their current opinions. Not surprisingly, some of our SC@M applicants did indeed hold some gender stereotypical views, which were compelling to examine. Unexpectedly, it was a minority of applicants that held these views.
Question 1:  Boys understand science easier than girls. Do you agree with this statement? Why or why not?
| | |
| --- | --- |
| Agree             n = 15 | Disagree               n =30 |
| Boys like it moreBoys listen more, girls talk too muchAll the famous scientists seem to be maleMost scientists on TV are male | Boys and girls learn the sameGirls listen better so they understand moreBoth girls and boys can be good at scienceYou just have to work hard |

Question 2:  Men are better at science jobs than women. Do you agree with this statement? Why or why not?
Agree            n = 12
Disagree             n = 33
Women are not as good at maths Most scientists are men Men are braver Men think it's more fun

Men can deal with more energy correlations and stuff

Boys do technology stuff

They are equal, we have equal rights It just depends on how hard you push yourself Men may be stronger but science doesn't require strength I have only ever been taught science by ladies
Notably, of the children who agreed with these statements, several described the dominance of male scientists portrayed by the media. Doesn't every Australian know of Dr. Karl? He hosts radio talk-back science shows and Sleek Geeks on ABC TV, is the science-guru guest on numerous morning shows and the author of over 30 books. Many would consider Dr Karl as the face of Australian science. This misrepresentation of science and gender subtly endorses the view that boys are simply better at science.
It was pleasing to note that the majority of our applicants disagreed with these statements and most suggested that science was accessible to both genders. Given current research suggests girl's interest in science diminishes towards late high school, it would be worthwhile to re-examine this same cohort of children at a later stage to determine any change.
Question 3: Currently there are more men in some science jobs (like engineering) than women. Why do you think this is so?
Typical responses
Men like it more.
Women don't want to get dirty.
Men are stronger.
Boys just like building things.
Women have a family.
It's too hard for girls.
Girls like dancing and other jobs.
Women are more suited to caring and developing jobs like childcare and nursing.
There has always been more men in engineering.
Although 75% of applicants thought that science was accessible for them, the majority of children responded with gender-biased statements when responding to Question 3. Sadly, none of the applicants provided an opposing side. Women are under-represented in engineering fields and other physical sciences. We need strategies to encourage girls to enter these fields, not allow them to simply accept that "it is just too hard for girls". One of the major objectives in establishing SC@M was to encourage girls' participation and engagement in science activities. Through providing rich hands-on learning activities at SC@M, we aim to instil curiosity and problem-solving skills. Ideally these skills will foster long-term participation in science, particularly for our girls.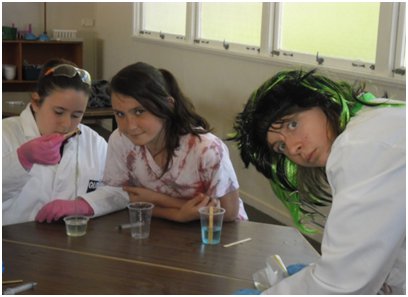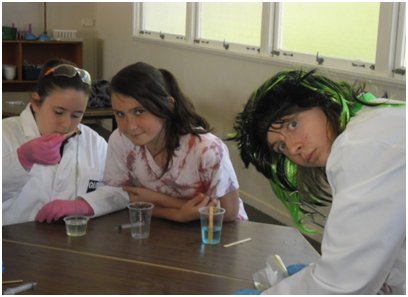 Some of SC@M girls, Crazy Scientist Day.
Question 4: Would you prefer to have a girls' science club and a boys' science club or 'all in together' club?  
Separate boy / girl club     n = 4
All together club   n = 41
Boys like loud things as well but girls just like learning Boys get distracted easier Often think differently Boys talk about irrelevant things
More fun that way Can get a mix of ideasEveryone gets the same go We could run out of teachers

We can hear lots of ideas and predictions

Then  we can co-operate together
The responses to this final question held the most surprise and the most promise. Despite the fact that some of the applicants held biased views that boys are better and science was the realm of men, the children overwhelmingly wanted to be together. The children appreciated that irrespective of gender, each child could play a role and that they could learn from each other. Indeed, it would just be more fun. Imagine if, as adults we held these views; valuing an individual's contribution, not just their status, not just their gender. It will be interesting to map the journey of our original SC@M applicants, particularly the girls. How many will study science in their later high school years or enter science fields? What is pleasing to note, is that for the moment, they are not quite sure about gender stereotypes and both the boys and the girls believe that science is for everyone.