Linux.conf.au 2013: 'Nerdvana' in Canberra

During the last week of January, approximately 700 IT professionals and enthusiastic hobbyists descended on Canberra to jointly create an intensive learning experience. Each year the call goes out across the intertubes to gather together open source geeks for  Linux Conference Australia. Linux.conf.au, or simply LCA, is one of the largest open source conferences in the southern hemisphere, and one of the most highly-regarded conferences of its kind in the world. I was excited to attend LCA2013, as it was my first LinuxConf, despite being involved to a modest degree in the Linux and open source community for at least the last 15 years.
Most days, the programme commenced with a keynote address by an IT industry luminary who had made a significant contribution to computer technology and open source. At every keynote address, the lower level of ANU's Llewellyn Hall was packed with delegates, each toting a selection of wifi- or 3G-enabled devices. While I saw a healthy 55Mbps idle capacity on the Internet link provided by conference organisers (ably assisted by the network engineers at AARNET), once the assembled cohort of digital natives hit the link, all of that that capacity was rapidly utilised. 🙂
The conference was opened on the Monday by Bdale Garbee, recently-retired Open Source & Linux Chief Technologiest at Hewlett-Packard, and a long-time contributor to the Debian Linux distribution. (Read Kelly Burnes' article about Bdale at LCA2013, where you can also watch our video interview.)
On the Tuesday, Radia Perlman enchanted the audience with her talk on the folklore of networking. Radia has been instrumental in developing several key networking protocols that underpin the interconnectedness of computers that we now take for granted. She gave a highly-technical yet accessible talk laced with humour and even nerdy poetry. (You can read my thoughts on Radia at LCA2013, and watch our video interview.)
Andrew "bunnie" Huang gave the Thursday keynote. Andrew was instrumental in creating the Chumby, one of the first 'ambient Internet' devices brought to market, but is probably best known for 'hacking the Xbox'. bunnie's talk delved, naturally, into the hardware side of open source, using the development of the Chumby as a case study. The depth of bunnie's hardware design skills, experience in the challenges of electronics manufacturing, and strategic insight into the process of bringing a consumer electronics product to market was truly staggering. (You can read Rayna Stamboliyska's article about bunnie, and watch our video interview.)
If the first three keynote speakers were the warm-up act, then it's clear that Sir Tim Berners-Lee was the headliner of the conference. OpenGov advocate and all-round dynamo Pia Waugh, worked for over a year to put together a speaking tour of Australian and New Zealand by Sir Tim Berners-Lee (better known as 'Sir Tim', or simply 'TBL'). TBL is widely regarded as the 'inventor of the world wide web', and is currently the director of the World Wide Web Consortium (W3C), which is the body that oversees web standards. With such auspicious provenance, and with tickets being sold to the general public in addition to LCA delegates being present, anticipation was at a maximum for this high-profile talk.
Llewellyn Hall was packed near to capacity as TBL took to the stage. His fast-paced talk touched on a wide range of issues of critical importance to the future of the web, including the need for transparency and accessibility of government data, and the importance of close scrutiny of data retention and data security laws. He also spared some time to discuss the recent issues surrounding the tragic death of Aaron Swartz, who took his own life after being embroiled in legal action over alleged 'civic hacking'.
The week kicked off in a technical sense with two solid days of 'miniconfs'—self-contained events, each focusing on a specific technical theme. Miniconfs consist of less-formal presentations and workshops, with each running for a full day. Conference delegates are able to move freely between 'streams' to mix & match sessions according to their own interests. Concurrent miniconfs occupied all six lecture theatres in ANU's Manning Clark Centre on the Monday and Tuesday, with over 100 sessions being presented across the two days! With an incredibly wide range of topics such as 'Advances in Linux Security', 'Multimedia and Music', 'Systems Administration', and 'Open Government', the only true problem for delegates was trying to work out how to cheat the laws of time and space in an attempt to fit everything in. 🙂
On Wednesday through Friday, the main course of technical sessions was plated up for us. Each day saw about 30 sessions running across the venue. These formal sessions tend to be longer, and provide the opportunity to 'deep dive' into each topic. They again spanned an incredible range of interests. Of the sessions I managed to fit in to a packed week, some of my favourites were a talk on 'Open Source and Open Data for Humanitarian Response', a presentation on '1.5MW and 3600 penguins in a room: Supercomputing at ANU', and of course the incredibly popular 'DSD and open source software', which provided extensive information about ██████████, ████████, and even ███████! This presentation was, alas, not able to be recorded, so you literally had to be there. 😉
On the social side of things, delegates self-organised a number of 'BoF' sessions. BoF stands for 'Birds of a Feather', where people get together based around common interests that may or may not be directly related to Linux and open source. More than 20 different groups coalesced around such diverse interests as running, geocaching, Arduino, and astronomy. I found the BoFs to be fantastic for getting to know people and making new friends. And on the Thursday night, everyone was ferried to Mt. Strolmo to partake in the 'Penguin Dinner'. (A penguin, dubbed 'Tux', is the mascot of Linux.)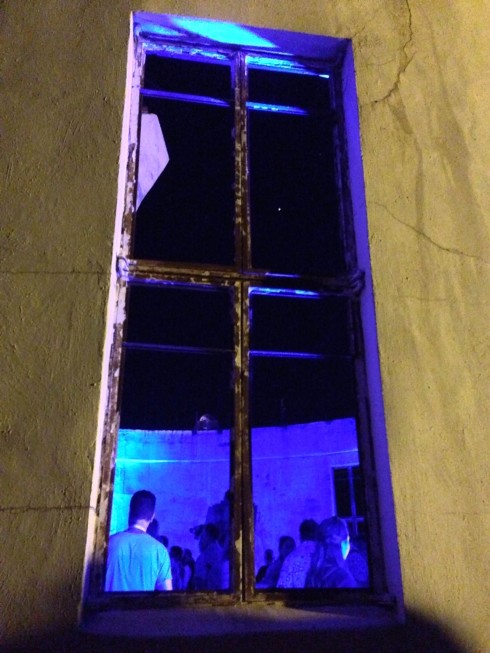 To sum up, I was incredibly impressed by the depth and breadth of expertise and experience on display at LinuxConf. It is truly a conference with something for everyone of a technical bent and with an interest in open source technology. LCA2013 has been widely touted by those who have attended multiple LCAs as the best yet. I can tell you that I'm already planning my trip to Perth next year for LCA2014.
Cite this article:
Smith J (2013-02-11 00:26:36). Linux.conf.au 2013: 'Nerdvana' in Canberra. Australian Science. Retrieved: Oct 02, 2023, from https://ozscience.com/internet-2/linux-conf-au-2013-canberra/